Our Story
It is a great pleasure greeting you at our new Kennel Golden Label.
Member of the
DRC
German Retriever Club

Members of
VDH
German Dog Association
JGHV
German Gundog Association
FCI
International Dog Association

We do hope you will enjoy your visit with us and our Golden Retriever bitch
Ghiralis Ashanti
- called "Amy".
My name is Annett Raymond Jacobsen. I am half Danish, half English. I live with my husband, Uwe, who is German and our 2 sons Nicklas (20) , Patrick (18) and Amy in the village of Oberjosbach near Wiesbaden.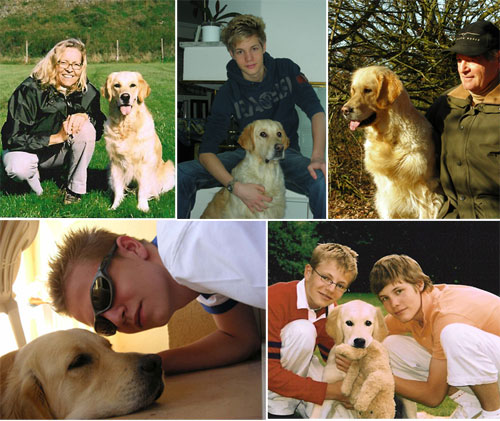 Before having my kids I worked for KRAFT FOODS Germany as a Brand Manager. What I have learnt in my job about the importance of quality, quality control and research will be of great value in the efforts to fulfil my breeding goals of Golden Label.
Dogs and Breeding is a passion in my family that goes back quite a few generations. - I have always had dogs of different breeds around me since I was a little child. However, very early in life I knew that when time comes to choose my own dog - it will be a Golden Retriever! - A breed that has experienced a very successful development in Denmark long before the Golden Retriever became popular in Germany.
My grandmother in Wales, UK was very successful breeding Cocker Spaniels after the war. A passion she had taken on from her father. - Most probably the reason why our first dog at my home in Denmark was a Cocker Spaniel. - "Flicka" was a gorgeous bitch, - a loveable family dog. - Years later my brother brought a Kleiner Münsterländer into the family. What a change of character! - "Tiffany" was a girl full of spirits and "talents". My brother is a hunter, so she was trained to accompany him on his adventures. - As his interest in hunting grew stronger, he decided later on in life to have a Labrador Retriever. And that's when his passion for breeding started.
Our parents moved into the countryside when we kids left home. They had a big dream: Sheep Farming and Border Collies. Needless to say, - Border Collies and Norwegian Spel Sau sheep became their breeding passion. Dogs from England were imported to bring new genetic variance into their Danish pedigree . - My children have marvellous memories in Denmark in the company of up to 100 sheep with lambs, horses, cats, and the Border Collies: Lucky, Schott, Lad and Rock. - It was always fascinating watching my father work with the dogs around the sheep. All 4 dogs were extremely intelligent, fast as the wind, fantastic sheep dogs with excellent instincts to work.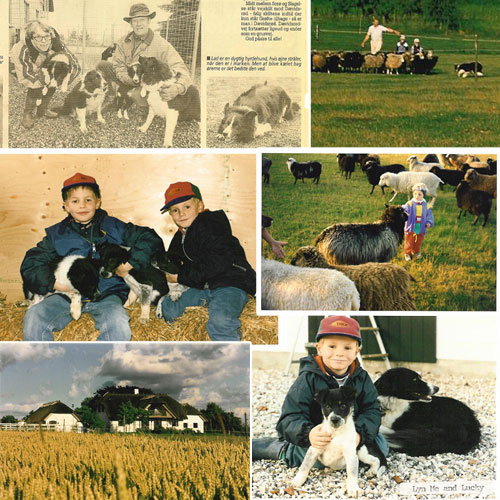 Sad that my parents had to leave us so early in life, - and so unexpectedly. The entire flock of sheep and 2 dogs at the time, fortunately all found a wonderful home at good friends of theirs, who are into sheep-farming themselves. We are very grateful to them for making this possible.
When my husband stopped working 2003, I knew the time was right for us to have our first dog.
Finally my dream was coming true: A Golden Retriever!
Amy has been selected with great care. It was my goal to find a good pedigree puppy bitch with potential breeding chances. I was looking for excellent parental health background, good natured parents of class conformation and a sire with good progeny results. It took quite some time to find what we were looking for. - However, through the German Retriever Club, DRC, we finally got in contact with the breeders Stephan and Sylvia Steidl from Ghirali's kennel. Stephan is a trainer of the DRC, he hunts and manages as chairman in his free time the DRC in our area, BZG5 - Rhein-Taunus. Their beautiful female dog "Ger.J.Ch.Just like Peaches Stargleam" - Amy's Dam - had only just come home from Belgium where she had been mated to the charming stud Ch.Xanthos Gryffindor from the well known kennel "Fine Art of Rudgieri". On the 25th of March 2004 Peaches had 10 healthy puppies.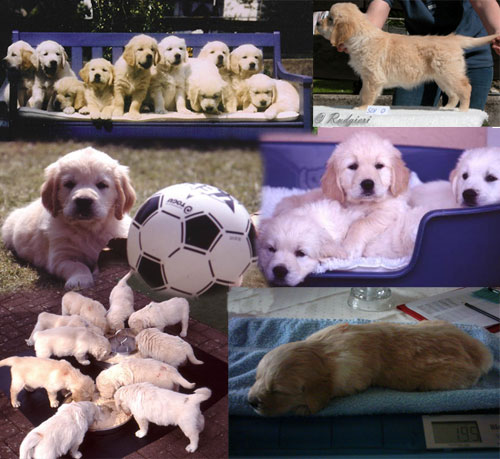 Thank you Sylvia and Stephan for giving us this astonishing girl and for your great professional support and help you have been giving us since we have been part of the Ghirali's family. - You have taught me so much about retriever training and showing and in addition, we have gained so many new great friends through Amy's litter sisters and brothers.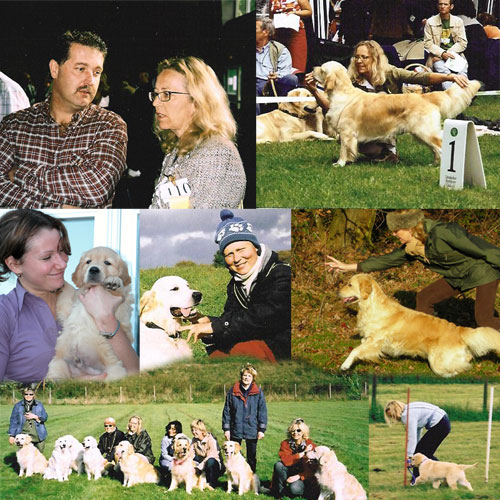 Furthermore, I would like to thank Tamara and Peter Ignatieva-Heiremans - the owners of Amy's handsome and lovely Sire, Ch.Xanthos Gryffindor. - It is wonderful to have met you . I appreciate very much you helping and sharing with us your qualified knowledge of the breed and experiences as successful breeders. - A special thanks to Tamara for designing these pages. I think she has done an excellent job!
I wish you fun looking over our Golden Label Website and hope to great you again some other time.
Annett Raymond Jacobsen